Seeing & Documenting what has been Overlooked
  Ray Urbaniak
Most Recent
New articles PCN Jan-Feb2020

New articles PC Nov Dec,2019 Pages 9-13

Winter Solstice site 1
Winter Solstice site 1 follow up visit
Winter Solstice site 2
New Articles PC Sept'Oct 2019 Pages 20-21 & 16 &18-19

New Articles PC July August 2019
Mammoths
New Articles Pleistocene Coalition May-June 2019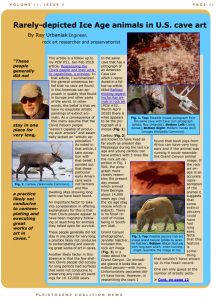 Summer Solstice 2019
New Articles Pleistocene Coalition Mar-Apr 2019
Spring Equinox 2019
Little Girl Project   Other (a Sci Fi short story I recently wrote)
New articles in Pleistocene Coalition
Winter Solstice(Eagle's Nest)
Video
Eagles
Bears Ears
Very impressive Winter Solstice Marker that Michael Lau did a great job documenting. I calculated what would happen and when and it was relayed to him. There is also a nice horizon marker which I didn't calculate since I have never been to the site.
Winter Solstice Marker

Pleistocene Coalition Nov Dec 2018
Pages 10-13Pleistocene Coalition Sept Oct 2018
Pages 14-17
Pleistocene Coalition July August 2018


Pages 15-18
Pleistoncene Coalition May June 2018
pages 14 & 13
Pleistocene Coalition March April

pages 16-18


Pleistocene Coalition March April




Pages 19-21





Summer Solstice Sunrise
Archaeoastronomy & Archaeology
Books, Articles, Videos & Links
By: Ray Urbaniak
RAY URBANIAK is an engineer by education and profession; however, he is an artist and passionate amateur archeologist at heart with many years of systematic field research on Native American rock art, especially as related to archaeoastronomy, equinoxes and solstices in Utah. He has noted that standard archaeological studies commonly record details of material culture but overlook the sometimes incredible celestial archeological evidence. Urbaniak has also played a major role in documenting and raising concerns for the accelerating vandalism, destruction and theft of Native American rock art. He has brought state representatives to rock art sites with the hope of at least placing labels as protected nearby what he calls "sacred art" sites as a deterrent to vandalism.
Ray is a contributing writer for the Pleistocene Coalition News, and has also written numerous articles published on the Manataka American Indian Council website.
Ray has written several Archaeology books and in 2016 published his first fiction novel based on actual findings.
This new web site has links to many other works, & archaeology facebook posts
Great Eagle, an Ancestral Puebloan Shaman, follows the bread crumbs(corn crumbs), to unravel the story of a Celtic visitation in the distant past. His adventures explore the history of the visitors as well as the mystery of life itself.
The story starts in the year 1257 ce.
Prehistoric Fiction, Native American, Science Fiction, Eco-fiction, 
Petroglyphs, Archaeoastronomy, Ogham, Celtic, Rock Art
See Reviews:
Manataka American Indian Council
Pleistocene Coalition Page 6
This book delves into recent discoveries of previously unrecorded Solstice, Equinox, and Cross Quarter Markers both petroglyph and horizon markers in Southwest Utah.  Also included are the first ever general guideline for identifying Solstice and Equinox markers.
How often do you look at a calendar or in other ways confirm the date?  Well, the Anasazi's preoccupation with the Sun should come as no surprise! Celestial event recording stone & horizon markers, including petroglyphs & pictographs, have been recognized around the world for a long time.  However, in 1977 when Anna Sofaer discovered an Anasazi "sun dagger" solstice marker at Fajada Butte in Chaco Canyon, New Mexico, interest in Native American Solstice markers in the United States skyrocketed!
Manataka web site shopping cart link below may not be staffed any more? Therefore you can ORDER directly from the author.
Ray Urbaniak has had careers in Engineering, Engineering Consulting, and as an Artist, however, during all of this time he has been foremost a passionate Amateur Archaeologist. Many archaeological studies record every scrap of evidence from the material cultures while overlooking the sometimes incredible celestial archaeological evidence right in front of them! Detailed pictorial spiritual celestial archaeological evidence, discovered by the author, is presented in this book.
This is an unabridged version of Anasazi of SW Utah, The Dance of Light and Shadow.