Present Exhibit
Former exhibit:
Southern Paiutes-A Portrait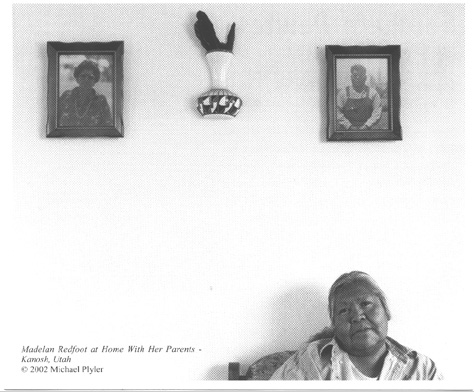 Tuesday November 4th, 2003 at 6:00 PM at:
134 S. Main St., Hurricane
between Chums & the Main Street Café
Enjoy a collaborative exhibition of the works of writer Logan Hebner and photographer Michael Plyler that chronicles the lives of nine Paiute tribe members from Utah.

The individuals include representatives of the five band of Paiutes Indian Tribes of Utah(PITU): Shivwits, Cedar, Indian Peaks, Kanosh and Koosharem.

A reception & exhibit will open at 6:00 PM, Tuesday November 4

th

followed by a lecture at 6:30 PM.
A suggested donation of $5 for the lecture.
Call 635-3981 if you have questions
If you missed purchasing something you wanted during the prior exhibit, call 635-3981 to see if it is still available (Prior exhibit listed below)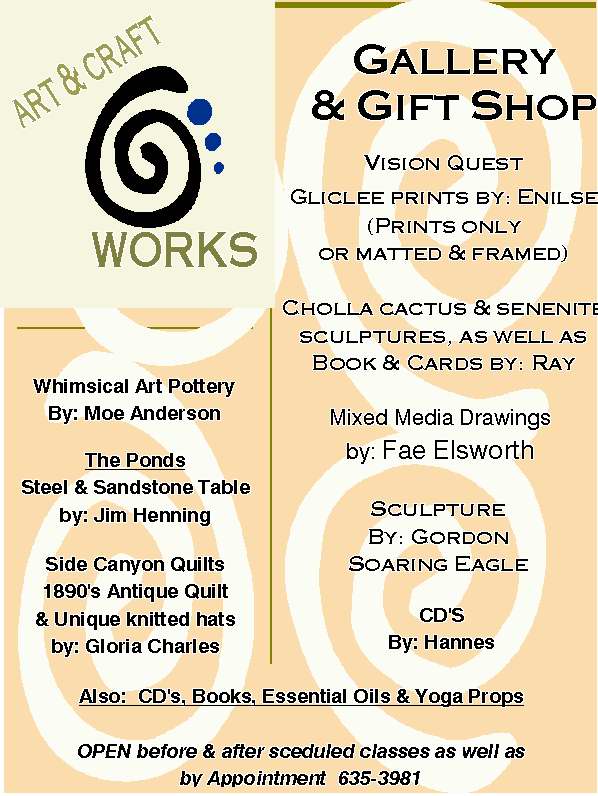 Inner Light Art Gallery : is proud to be showcasing the talented local artists displaying their work. We are pleased to share the following Personal Statements of the work of Moe Anderson, Gloria Ann Charles, Fae Ellsworth,Jim Henning, Gordon Soaring Hawk, Enilse Sehuanes-Urbaniak and Ray Urbaniak , all of whom have work for viewing and for sale at the gallery, behind the Yoga Studio. Also available for sale are the Music CD's by talented musician Hannes. The Gallery will be open before, during and after all scheduled classes, workshops, and events or by appointment (call 635-3981).This exhibit will be up until the end of October. Please share this e-mail with anyone you think may want to receive it. We are grateful for the participation of these awesome & talented Individuals!
Thank you for your support and interest in this venture!
Personal Statements
MoezArt is one of a kind pottery that one must see to experience it's unique colorful and playful quality. Pottery that is real joy to have in your home!
The pottery exhibited at the gallery has been wheel thrown, decorated with colored slips and fired to bisque ware. Large bowls, lotion dispensers, spoon holders, cereal bowls and an exquisite large art vase are among the items available for sale. A clear glaze is applied to each piece and is fired for a second time in a cone 6 oxidation atmosphere reaching approximately 1980 degrees F.
Moe teaches Pottery Classes at Dixie State College and also offers workshops using clay as a vehicle for self transformation.
Gloria discovered her true media, Textiles, as an 11 year old. After earning a BFA at Maryland Institute, College
of Art , she went right to work in Manhattan 's garment center as a clothing designer.
Among her many interesting achievements in textiles has been doing custom sewing in Woodstock, NY, creating her own design company, Chuckwalla Clothing, in the Sierra Nevada of California, and studying Inupiat skin sewing in Arctic Alaska.
In 1994, in tribute to her Appalachian roots, she began to study, restore, appraise and sell antique American quilts. Her particular area of greatest thrill is the 1840's and the 19th Century overall. She created a home business, Side Canyon Quilts, which sold her one of a kind patchwork work in many art galleries.
Gloria retains a small selection of unusual antique quilts for sale and is in the early stages of crafting small art quilts and folding screen panels.
Fae received an MFA in 1990. Her "Little Stories", insightful mixed media drawings, have been compared to "a cosmic Grandmother Moses"- have been nationally exhibited, including at the Women's Museum Of Art in Washington , DC representing Utah in "Out Of The Lands Exhibit".
She says " My love of personal mythologies as well as universal ones, such as fairy tales, has become the frame on which I hang these images, a kind of representation of lives and the subconscious made visual". She lives in Virgin with her sculptor husband, Anton Gehring.
Jim was introduced to art at an age, but it was after experiencing a mid-life crisis that he entered a new direction in his life through sculpture and clay and then began a new career. "In my own mind I just make things. Other people enjoy these things and take them home to live with. I like that. A lot of what I do is done purely for the pleasure of welding. I think of something to make, design it, engineer it and build it. It is about as simple as that. There is not much refinement behind me & you will find some rough edges on what I make. If I can coax function and beauty out of a stone, a piece of wood, or a rusty piece of iron, you can damn well bet I am not going to spend a lot of time refining it. I have too many things to build and entirely too little time to do it".
Gordon is an Iroquois from the Six Nations of the Grand River in Canada . He creates in a variety of media, though much of his work is three- dimensional. He says that his creations are "an integration of the past and the present… In my art, I am striving to reach back through time to re-affirm my kinship with my ancestors, and re-create insofar as possible the same feelings of love, joy and beauty that went into the utilitarian objects they created. The continuous quest to understand myself throughout my life has taken me through many paths that have now begun to emerge within my art".
Enilse received her BFA from the Philadelphia College of Art in 1984. She has traveled widely in Europe and the US experiencing firsthand the art of the Great Masters from ancient cultures to contemporary abstract painting to Native American and Indigenous spiritual art. For 14 years she and her husband, Ray, hand crafted intricately decorated miniature pottery jewelry which they sold all across the US . After experiencing strong "spiritual shifts" in a quiet small rural town in Colorado , her desire to paint and express herself in detailed intimate images became a strong calling. That was when Vision Quest series was born. She is happy to share these special images (displayed in form of Giclee Prints) to the public in hopes that others will appreciate the beauty and power of the universal concept of the "Feminine", the Divine and Nature.
Ray is an engineer by education and profession but an artist and passionate amateur archeologist at heart. He is a self taught potter using simple traditional techniques inspired by Native American Potters. The diversity of unique solutions and interesting approaches to creating art, whether it be in clay, natural found objects, designing jewelry, photography and doing computer design work is evident in the outcome. He was the creative conceptual designer behind the successful "Aromatic Miniature Pottery" craft business he & his wife, Enilse, ran for many years. The incredible power and energy present in the thousands of pictographs and petroglyphs located in Southern Utah is the inspiration for most of the work he has created since moving to Hurricane, UT.